Welcome to Our Undergraduate Program
We offer a major in Ocean Science, a Marine Biology Area-of-Emphasis for students majoring in Biology, Double Dawgs BS/MS and Marine Sciences related Undergraduate Certificates.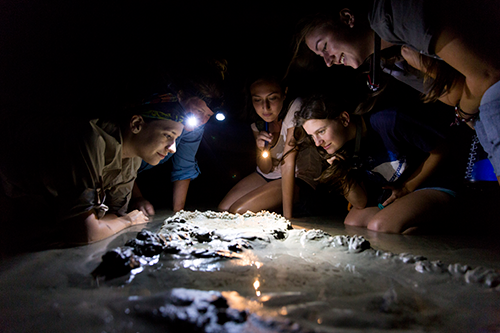 The interdisciplinary nature of the Marine Science curriculum will prepare students to analyze critically such contemporary issues as environmental change, human impacts on the ocean, and biodiversity.
Program Information and Resources
Degrees and Programs
Detailed information about undergraduate degree, certificates and programs.
Faculty research interests range from the ecology of bacteria and phytoplankton, to inorganic and organic biogeochemistry, to ecosystem dynamics modeling and ocean acoustics.
Undergraduate Courses & Course Schedules
See all course descriptions and up to date course schedules. 
Double Dawgs 
Did you know you may be able to earn both a bachelor's and master's degree in Marine Sciences in five years? And benefit from mentoring with full-time faculty? 
Undergraduate Certificate
Learn more about Undergraduate Certificates related to Marine Sciences.
Spring Semester and Summer Semester Coastal Study Away Programs
Participate in research at UGA's renowned Marine Institute on Sapelo Island.
Research Opportunities
Learn more about the many research opportunities for undergraduates within the department.
Syllabi
Access syllabi for current and past Marine Sciences' courses.
Advising
Contacts for Undergraduate advisement 
Careers
Learn more about careers in Marine Sciences.